Do you ever catch yourself staring at your kitchen, dreaming about the possibilities, wondering what it would be like given you had the (fill in the blank) to redesign or renovate it?
Two years ago we bought a 1940s Colonial that has a quaint farmhouse feel but needs a looot of work, so this is something I do a lot (the standing and staring). 
HBS Home, a kitchen & bath showroom here in Bucks County, PA is a stunning custom cabinet shop right around the corner from us in Newtown. They asked me to create a conceptual kitchen design to display on the gallery wall in their showroom. Typically busy with our clients' projects, my own are usually  shoved to the bottom of the list (don't ask me about the sheets hanging over my bedroom windows). Since I don't have a client on this project, I took the opportunity to dream up a plan for myself. It was exciting in that I finally set aside time to think about what I would actually like some of our renovations to look like one day. Not only has that been a nice distraction during the Covid quarantine, but it enables me to consider our priorities, construct a budget, and assess the next projects in our home in an informed manner.
Below I'll walk you through the design, which highlights my detailed selections and a peek into our design planning process.
To start, we partnered with Countryside Gallery on State St and I selected a watercolor by local artist Judy La Torreat to set the tone for our design direction. It reminded me of some of the old barns we see while walking in Tyler State Park so was an easy choice.
Robert Kramer from HBS helped me with the cabinet plans and I selected all the materials needed for a Kitchen with an adjacent mud room, butler's pantry, and powder room. I like to start projects by asking how we want to feel in the space when it's completed.  In my own future Kitchen, I'd like the design of the space to evoke an effortless vibe that's chic, bright, airy, and classic (also organization is key for creating a sense of calm. Read: storage, storage, more storage). While we want to make some broad updates to our home, we won't ever gut renovate it. I'd want an updated kitchen that is not only pretty, but enhances the existing architecture. Our Kitchen & Breakfast Room area are right inside our front door so it's the first thing you see when entering our house; it should set the tone for the overall look & feel of our home.
Prioritizing selections that are little traditional mixed with a few clean lined pieces keep the overall design of the space classic while not getting too fussy. This approach fits the design of our little Colonial farmhouse well.
Below is the Kitchen rendering from Robert. There's wrap around cabinetry, a window over the kitchen sink, and a generous island. I mentioned storage, so I'd opt for upper cabinetry around the full perimeter. One could swap out upper cabinets for floating white oak shelves here if you wanted a lighter look and had less to store.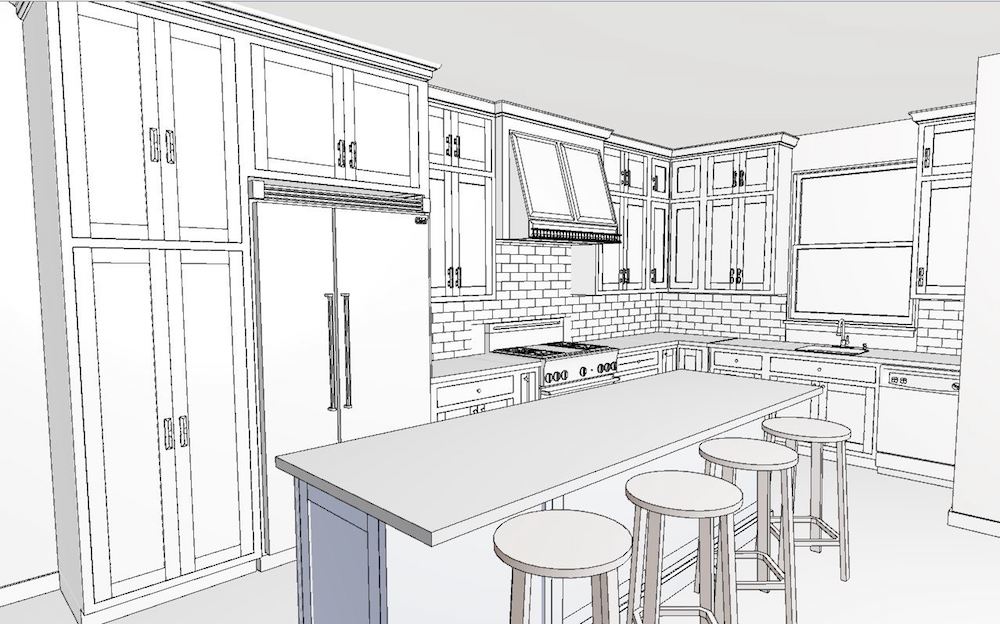 Here's the design plan with my selected materials: